FAQ
Frequently Asked Questions
General
Who maintains and supports Channelpedia?
Channelpedia is maintained and supported by BBP / EPFL, Switzerland.
What about the ion channels with no data available in Channelpedia? Is there a plan?
Our group (Membrane Systems) in BBP is systematically characterizing ion channels in standardized conditions and controlled environment. All electrophysiology data from Kv channels have been made available. The characterization of K2P, Kir and HCN channels are in progress and characterization of KCa, Ca and TRP channels are planned for the coming years.
Who can edit Channelpedia? Can I add ion channel informations?
All registered users can edit the wiki-like sections, just clicking on Edit at the top-right of each sub-section.
Who can I contact for more details on the automated patch clamp method?
Please contact bbp.channelpedia@epfl.ch for details on automated patch-clamping methods.
Data sharing
Can I upload my experimental electrophysiology data on Channelpedia?
Channelpedia is a freely-accessible information management framework for comprehensive ion channel information. We encourage all researchers to share their ion channel data through Channelpedia. At present an automatic data upload is not provided, but we can upload your data to Channelpedia: please contact us at bbp.channelpedia@epfl.ch.
Is it possible to download a whole set of ion channel data at once?
Yes, we have an infrastructure suited to share large amount of data. Please contact us at bbp.channelpedia@epfl.ch, indicating which dataset you are interested for downloading.
Can I have access to the raw HEKA data files?
Yes, please contact us at bbp.channelpedia@epfl.ch.
What is the cell ID?
The cell ID is a unique ID assigned to each cell as soon as it is recorded; it is the main reference to relate every file and every image.
Ion channels and cell lines
Are there different host cell lines?
CHO is the main host cell that we have used for generating stable cell lines over-expressing only one type of ion channel, for the whole Kv family. However, we have also used HEK and CV1 cell lines to over-express some of the Kv channels.
What is a cell line datasheet?
Cell line datasheets contain details on the PCR conditions used for the amplification of ion channel genes and the validation of each cell line by RT-PCR.
Are cell lines available for use?
Yes, all cell lines are freely available for collaborative or specific projects.
Can I propose an experiment with ion channel cell lines?
Yes, we welcome all proposals for collaborative projects.
Which data are available for human and mouse ion channels?
For human, experimental data are available for Kv1.1, Kv1.4, Kv1.5, Kv1.6, Kv2.1, Kv3.4, Kv6.4, Kv11.1 Kv12.3 ion channels.
For mouse, experimental data are available for Kv1.1, Kv1.4, Kv1.5, Kv1.6, Kv2.1, Kv3.4, Kv6.4, Kv10.1 and Kv12.3 ion channels.
NWB files
Which data are stored in an NWB file?
Each NWB file, which is designed to store data in a self-documenting way, contains all the data related to an experiment. The file can be opened with and HDF5 viewer (e.g. HDFView). In the folder acquisition/timeseries there is a subfolder for each applied stimulus, which contains a subfolder for each repetition, where the dataset of the recordings (data) are stored, along with many other metadata, as the seal and the series resistance (r_series) of the patchclamping. Several other metadata are stored in the general/cell_info folder, as the host_cell and the species of the gene.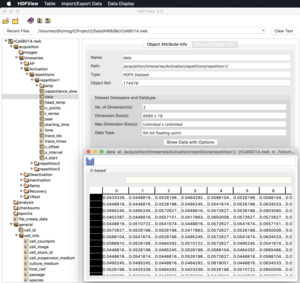 How raw data are converted into NWB files?
Raw data from HEKA Patchmaster are converted into NWB files through custom C libraries (available upon request).
How can I plot the ion channel data?
You can plot ion channel data directly with HDFview, or you can use our API for more elaborated plots.
Analysis
Which programming languages are supported for plotting ion channel electrophysiology data?
We provide API for Matlab and Python. If you prefer another programming language, please contact us at bbp.channelpedia@epfl.ch.
Which are the criteria to define good/bad recordings?
The criteria to define a good recording are based on 6 parameters, whose values have to be within an empirically-determined range:
Activity index between 0.3 and 1
Voltage offset between -15 and 35 mV
Seal larger than 200 MΩ
Series resistance smaller than 15.5 MΩ
Slow capacitance smaller than 35 pF
Maximal current larger than 0.5 nA
Are ion channel models available?
Ion channel models will be soon available for Kv channels.